The Huawei Ascend P2 uses a 1.5GHz quad-core processor similar to that of the already announced Ascend D2. It has 1GB RAM and 16GB storage, which unfortunately is not expandable as there is no microSD card slot.
The 8.4mm thin Ascend P2 has a 4.7-inch 720p IPS screen with 312ppi ratio. This came as a surprise since all the previous rumors pointed to a 1080p display unit. The screen is covered by a Gorilla Glass 2 layer and is rounded at the edges to create an "Infinity pool" perception as Huawei calls it.
The capacitive touchscreen layer is embedded inside the display cell and it allows operation with gloves or nails, much like the one on the Nokia Lumia 920.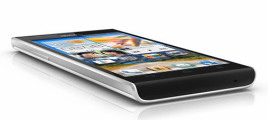 Huawei Ascend P2
The Ascend P2 features a 13MP camera with 1080p video recording. HDR is available on both still images and videos. Another bonus point goes for the dedicated hardware camera key.
The connectivity options of the Ascend P2 include 3G with HSPA, Wi-Fi, Bluetooth, GPS and NFC. There is also LTE support with the fastest speed seen on a smartphone so far - 150 Mbps. Reportedly, the feature will only work on compatible networks with Orange France being mentioned specifically. The phone will launch on Orange France in June 2013.
Huawei Ascend P2 also uses Huawei's proprietary Quick Power Control (QPC) and Automated Discontinuous Reception (ADRX) power-saving technologies, which allegedly reduce power consumption and charging time by more than 25% compared to other smartphones.
The Ascend P2 is runs on Android 4.1 Jelly Bean, but skinned with Huawei's Emotion UI v1.5. There is still no info on planned updates.
Huawei Ascend P2 is expected to launch globally in Q2 of this year with a retail price of about €400.