Alcatel has been quite far from the list of top Android manufacturers in late years. However today the manufacturer announced a bold step into the high-end with the One Touch Idol X. At the front it's rocking 5" 1080p screen with a minimalistic bezel - not unlike many of the current top-shelf Android smartphones.
It has a quad-core 1.2 GHz processor of unknown specification, 16 GB of internal storage expandable through an SD card slot, 2000mAh battery, 13 MP snapper on the back and runs, by the looks of it, a pretty stock version of Android 4.1 Jelly Bean.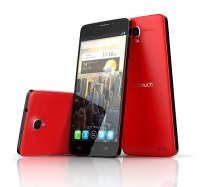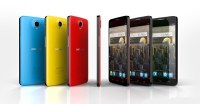 The Alcatel One Touch Idol X
There's still no actual word on pricing or availability but it may be bound for international release with US availability in question due to the apparent lack of LTE on board.
The One Touch Idol X will come in a variety of colors - blue, yellow and red for starters.
The One Touch Idol X comes to top the recently announced
One Touch Idol
and
Idol Ultra
- the Ultra sports a 4.65" 720p AMOLED screen, 8 MP snapper and a dual-core processor. The One Touch Idol has a 4.66 qHD IPS LCD at the front, 8 MP camera and dual-core processor. Both come with Android Jelly Bean on tap.
And while those three devices look good on paper - the naming scheme is just horrid.