Courtesy of
@evleaks
, we get to see a pair or high-quality press pics of the yet unannounced BlackBerry Z10.
It's not like we haven't seen tons of image material devoted on the BlackBerry's upcoming flagship, but the clarity of press shots like these can hardly be matched by any of the previously leaked mugshots.
We can't really judge the quality of materials used, but design-wise, the Z10 seems fine. Yes, it's a tad conservative. And yes, the sheer width of the screen bezel may be bit over the board for some, but it would nicely suit any guy in a suit (pun intended). Our point is, it may not be an instant eye-catcher but at least it won't look out of place both in the meeting room and in a bar.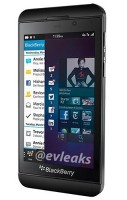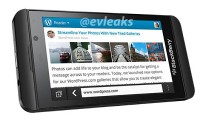 BlackBerry Z10
BlackBerry will hold a press conference next week - on January 30 - where it's supposed to unveil its next generation BlackBerry 10 OS along with the pioneering flagship, pictured above - be it called Z10 or something else.